---
---
The GNU Smart Pickle PBTX Snowboard is designed around the human body to make snowboarding easier. Your body isn't symmetric, so why should your snowboard be? The Smart Pickle is all about asymmetry. Turning dynamics for heelside and toe are different, so the toeside sidecut is a little longer and features a mellower version of Magne-Traction, while the heelside side cut is tighter and features traditional Magne-Traction. This allows the board to work with your body dynamics for a smoother, easier ride. The mad scientists at GNU are pretty darn bright, so why not try their Smart Pickle?
Rocker Type
BTX – GNU's BTX rocker profile places rocker between your feet, that transcends from flat to mild camber out to the contact points (tip and tail). This mellow blend of rocker and camber results in smooth riding, responsive turning, catch free jibbing and an epic float in pow.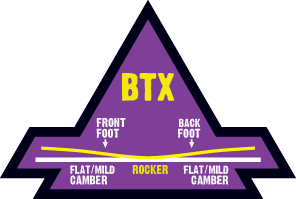 Flex
Flex 5.5 - 6.5 Depending on Size – Medium stiff flex handles everything from corduroy, powder, to big mountain obstacles. A slightly stiffer medium flex is designed to be versatile with a focus towards freeriding.
Shape
True Twin – A true twin snowboard shape is ideal for riders who want to ride switch or play in the park. The nose and tail are identical and the flex is evenly distributed throughout the entirety of the board. True twins are perfectly symmetrical.
A.S.S. Tech – This board is Asymmetric, and still symmetric at the same time. It might sound a little odd, but it works with how your body moves. By having symmetry in the board's sidecut, wood core, contact points, and the tip and tail design it makes riding a lot more fluid and easy!
Core
Paulownia – Incredible, ultra-lightweight, strong and poppy. Growing up to 20 feet a year once harvested, it grows back out of its own stump, making it extremely renewable.
Great Lakes Aspen – Light, strong, smooth riding, higher density Aspen.
Colombian Gold – Strong, poppy, extra-light, golden colored, fast-growing farmed wood.
Sidewalls
UHMW External Sidewalls – Ultra High Molecular Weight exterior sidewalls made from soy-based elastomer are laminated to five internal wood layers for totally bombproof sidewalls.
Base
Sintered Base – Fast, tough, maximum wax retention.
Die-Cut Base – Base color displayed may not be available. Base colors may vary.
Edges
Smart Magne-Traction™ – So clever! This special asymmetric Magne-Traction™ combines Finesse Serration on the toe side and Power Serration on the heel side. These edges have been fine-tuned to achieve a harmonious relationship between Mother Nature and snowboarding.
Graphics
The graphic was a happening between two visual experimenters: Matt French and Gnu art director Tim Karpinski collaborating back and forth from different states of mind.
Binding Compatibility
2 x 4 Insert Pattern
---